---
Welcome to Wonderland
Once upon a time there was Alice in Wonderland... Her ways were crossed by otherworldly, friendly creatures who she made quickly friends with. Together they discovered all the beautiful and magical sites of the other world. Same things will happen to YOU if you will attend these festivals in summer. Ravepedia will show you three festivals which you should not miss this summer if you like to experience the same adventure.
What do you like about festivals? Of course the main thing about festivals should always be great music! But there are a few more things you can only experience at electronic music festivals. Some big festival organizers aim to create a fabulous world besides massive lineups. By entering the gates to these festivals you will enter a unique world and feel like "Alice in Wonderland" for one day. Forget about reality and escape. Get yourself dressed up in a fabulous costume and let the tale begin. Be whoever you want to be and do whatever makes you happy.
ELECTRIC FOREST
In the idyllic Sherwood forest in Michigan every June takes place a magnificent festival for all fairy tale lovers: Electric Forest. The festival is well known for its otherworldy vibes created by a very mystical location: the forest. Also the festival is a perfect homage to "Alice in Wonderland". The organizer – Insomniac – who is very famous for big major festivals describes Electric Forest as:
"Once upon The Forest, you found yourself immersed in music. From tango to techno, banjo to oboe, every flavor rang true. Today, we celebrate the diverse music that helps us all to discover our truest selves, to feel more deeply, and to bring our best gifts to the world."
The venue: When the gates open all festival-goers walk to the stages to get a glimpse of their unique design. There are different 5 stages: Mainstage, The Jubliee, The Hangar, The Ranch, The Sherwood Court Stage. This year the stages will be hosted by House of Funk, Bassrush, Night Bass, All Good Records, and Anjunadeep.
Art: Next level surreal sights and sounds will make you. At night the forest will light up by psychedelic colors. Have a look on the unique sculptures made out of wood or get a colorful tattoo.
Special: If you decide to attend Electric Forest you will have the great pleasure to have a shower and some fun in the local waterpark! Also this year's edition has a program especially made for women who travel solo to a festival. "Her Forest Program" supports and empowers women to stay together with other solo-females on the camping ground.
Acts: Multi-genre festival with more then 100 Acts – headliners are Bassnectar, Major Lazer and The String Cheese Incident.
Zum Festival: Electric Forest
The pictures of last year's edition will blow your mind: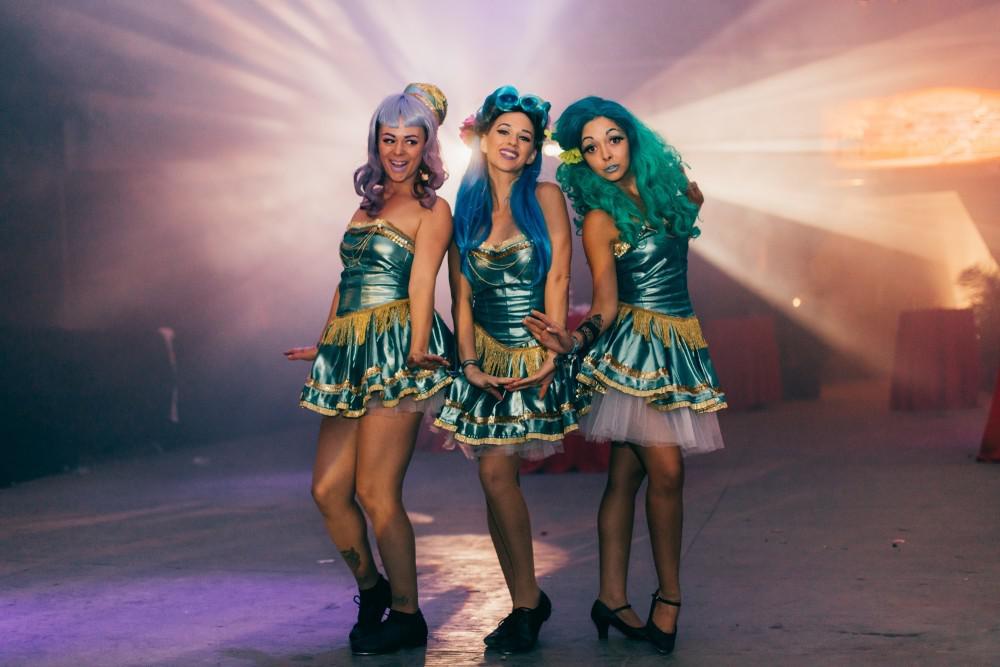 Photo credit: http://www.electricforestfestival.com
MYSTERYLAND
Mysteryland is the longest running electronic music festival in the world and also known as "the mother of Tomorrowland". The festival focuses besides great music especially on art, culture and sustainability. By entering the festival gates the visitors will discover a mysterious and surprising world – Mysteryland. Crazy styled artist, the unique stage design and all the details give you a 100% fairy tale experience. Also Mysteryland is an untold secret for ravers and for fairytale lovers. While Tomorrowland is sold out within few hours, Mysteryland tickets are easier to get and of course a lot cheaper.
The venue: Mysteryland takes place in Haarlemeer which is a 20-minute drive from Amsterdam. 15 different stages with unique design. Tons of confetti, fireworks, laser shows, balloons floating across lakes, colorful flags waving in the wind, furry animals fumbling around in the forest and mysterious creatures crossing your way – this is all what Mysteryland is about besides raving to multi-genre music.
Art: Mysteryland especially focuses on art. Find yourself in the Healing Garden, join a shamanistic meditation lesson, get married or discover culinary highlights on the food market island. Mysteryland tries to bring back the hippie vibe with all its magical creatures, join the vibe in a unique festival outfit.

Special: Chill out areas at Mysteryland will blow you away. If you are exhausted from raving and dancing take your time to recharge. Have massage or mediate at the Healing Garden at Mysteryland. The Healing Garden is famous for rebuilding bodies and rebooting minds.
Acts: Expect a great multi-genre line-up with headliners just like Afrojack, Martin Garrix or Diplo (more acts will be announced soon). 

Zum Festival: Mysteryland

To get into groovy Mysteryland vibes, watch the aftermovie
Official Aftermovie | Mysteryland NL 2015
NOCtURNAL WONDERLAND
On Labor Day weekend you can attend a love-filled, neon-lit and over-stimulating world of EDM in San Bernadino: Nocturnal Wonderland. The festival is North-Americas longest running electronic music festival. At the grounds of Nocturnal Wonderland hundreds of full costumed dancers and performers will await you. If raving isn't enough for you – enjoy the carnival rides. At Nocturnal Wonderland is all about positive vibes and will be headlined by YOU or how the organizer would say:
"Our goal is to create an environment where you can celebrate life, love, art and music, and be the truest version of yourself. We encourage you to spread good vibes and connect to your fellow Headliners by sharing stories, exchanging hugs and giving high-fives. Positive energy is the core of our amazing community. Dance, dream and have the time of your life. None of this would be possible without you."
The venue: The festival is hold in a very amazing location directly in the desert of California: San Bernadino. Discover the Nocturnal Wonderland with its 5 different stages: Labyrinth, Wolves' Den, Sunken Garden, Upside-Down-Room and Temple of Om. Get the full experience with camping on the unique grounds of Nocturnal Wonderland.
Art: When the light goes off Nocturnal Wonderland comes alive.Friendly forest nymphs, curious cats, and other dancing dwellers of darkness will make you feel like Alice in Wonderland. Nocturnal Wonderland focuses on seeking the unknown and this year will be your time to explore. You will be amazed by the giant, imaginative art installations towered over the crow.
Special: The very detailed costumes and otherwordly decoration will take your breath away. Also most of the attendees dress up in fairy tale like costumes which makes Nocturnal Wonderland magical and special.
Acts: Multi-genre electronic music festival. Line-up is not yet revealed.
Zum Festival: Nocturnal Wonderland
Here are some fabulous moments from last year's edition: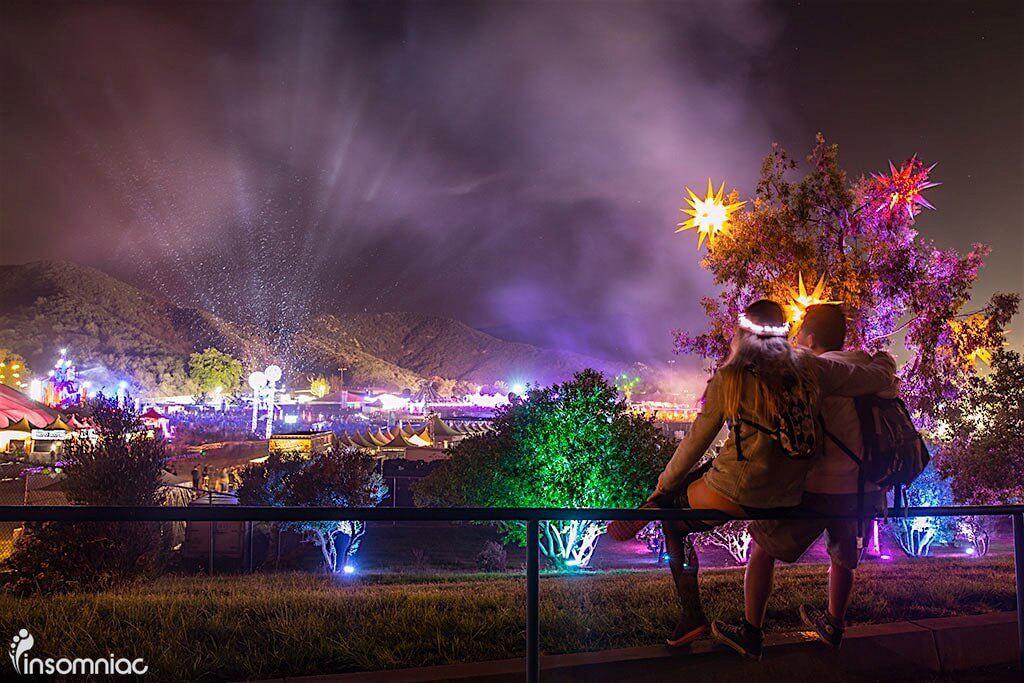 Photo credit: http://www.nocturnalwonderland.com/
---